How to Increase Your Garage Door Security?
There are many familiar mistakes people make with their garage door security. For example, if you're worried about home security, you ensure that your home is locked when you're not there, close windows, and confirm that there is nothing to tempt opportunist thieves. So what about your garage security, and how to increase your garage security?
1. Consider a strong garage door without windows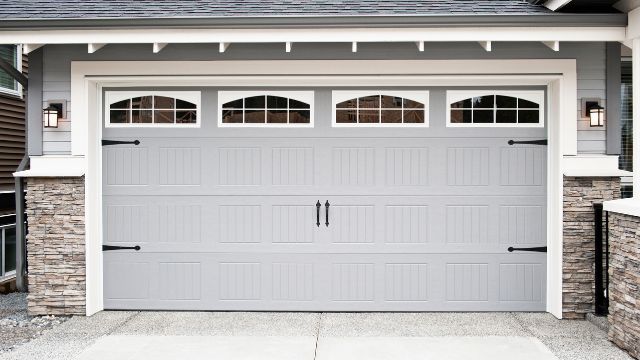 If potential burglars cannot see inside the garage, then there is less chance of attempting a break-in. In addition, if you prefer a little daylight in the garage, we have a range of garages with windows installed at the top so that your belongings are less visible.
2. Lock your garage doors
If you have to open and close your garage doors manually, you must keep them locked. Most houses have automatic garage door openers, which make garage doors far more difficult for a thief to get past. If you're going on holiday, it's an excellent thought to use a padlock clamped on one of the door tracks to ensure they stay closed.
3. Adding additional locks
As much as smart locks are recommended for garage door security, adding mechanical locks for extra protection won't harm you. Smart locks may not be 100% reliable as they are prone to be hacked by professionals, in which case mechanical locks will serve as a sufficient reinforcement. Also, if you intend to leave home for vacation for an extended time, you can rely on the mechanical locks to do the trick while you're away.
4. Protect internal home entry doors
If your garage is attached to your house, it will likely have an internal access door. When you are away, keep this locked to create an additional barrier should someone break into your home.
5. Add deterrents
There are many ways to dissuade people thinking about entering your garage from actually doing it. First, install a floodlight over the garage door and turn it on at night to keep the area illuminated. Suppose you'd rather not have a bright light on all night, put in motion sensors that automatically activate the floodlight if movement is detected. More brazen burglars don't mind creeping around your home in daylight, but some thieves still take advantage of the cover by a well-placed tree or bush near your garage door or window. Ensure that neighbors can see everything near your garage. Planting small thorny shrubs under ground-floor garage windows can discourage burglars from breaking in that way.
Final words
It doesn't matter how big or old your house is — we always provide the best deal. And considering all that goes into a sophisticated and secure garage door these days, you need a partner with the experience and know-how to ensure your door is working at peak performance from the day it's installed well into the future. So contact Handyman Services Bethesda today if you are looking for a new high-security residential door or need service on an existing door; we want to work with you!